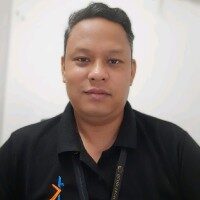 Ranbir Thounaojam, CEO
Ranbir is Founder & CEO of Trainerkart Americas, Inc. He founded Trainerkart in 2014 to provide affordable, learner centric, customizable top quality professional certifications trainings to working professionals.
Ranbir is an accomplished professional with around 2 decade of experience in Profit center Management, Vendor Management, Admission Counseling, Higher education marketing, ATL and BTL advertisements, Recruitment and Staffing Solutions , Process designing, training, and audit, Business Analytics, online marketing, product development, and project management.
Having served as leaders in many companies in education and training industry, Ranbir has gained extensive knowledge and experience in business planning, strategy development, competitor analysis, market expansion, business development, market identification and segmentation, product development, product management, product launching, product positioning, branding, pricing & sales support product market testing, talent acquisitions, Talent management, succession planning, payroll management, employee retention, Technical recruitment, sales and customer success team recruitment etc.
Ranbir holds a Certificate from Indian Institute of Management, Calcutta (IIM C) in Executive Program in Sales and Marketing and a PGDBA in Marketing from Symbiosis, Pune.
He has keen interest on Social entrepreneurship, Women empowerment, sustainable livelihood development, education, healthcare, renewable energy, environmental conservation and many other social causes.