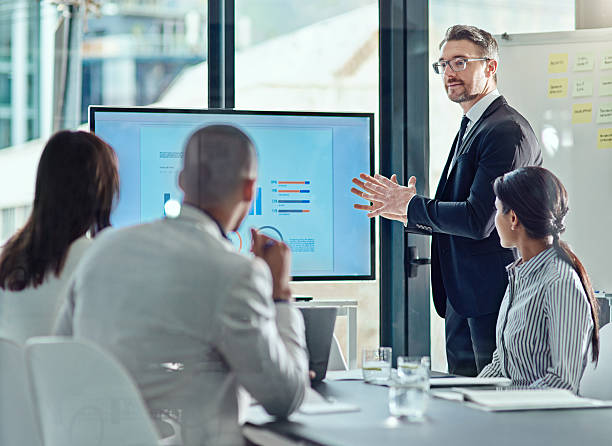 Gantt Charts: Definition, Benefits, and How They're Used
In today's era, Gantt charts are still one of the most widely used project management tools. The implementation of Gantt charts has revolutionized the way tasks are assigned, scheduled, and tracked. The evolution of Gantt charts from pen and paper to digital forms has made them even more accessible and versatile, allowing team members to comprehend and assess their project progress quickly. Additionally, Gantt charts enable teams to recognize and address project delays or changes quickly, helping them to make necessary adjustments to ensure that their project remains on schedule.
What is a Gantt chart?
A Gantt chart is an effective project management tool that displays the progress of tasks completed over a specific period in comparison to the planned timeframe for the work. It generally comprises two primary sections, the left side lists the tasks, while the right side represents a timeline with schedule bars visualizing the work. Moreover, Gantt charts can also showcase the start and end dates of tasks, significant milestones, task dependencies, and assignees.
In the current scenario, Gantt chart tools are commonly referred to as roadmap tools that have evolved to cater to the requirements of modern software development. These tools, like Jira Software, come with several features that include a collapsible task structure and resource management panels. This helps teams maintain a cohesive project strategy despite the iterative nature of software development.
Jira Software offers two roadmap tools for creating Gantt charts for your projects: Roadmaps, which creates plans around Jira issues assigned to a team, and Advanced Roadmaps, which enables the same feature across teams and organizations. By utilizing these tools, teams can manage their projects effectively and efficiently while ensuring that they meet their project deadlines.
Roadmaps (Jira Software)
Advance Roadmaps (Jira Software)
Components of Gantt Chart
A Gantt chart typically includes several key components:
Tasks: A list of all the tasks required to complete the project.
Timeline: A horizontal bar chart that displays the project timeline, including the start and end dates for each task.
Duration: The length of time it will take to complete each task.
Dependencies: The relationships between tasks, such as which tasks must be completed before others can begin.
Milestones: Significant events or achievements within the project timeline that mark important deadlines or milestones.
Resources: The people or equipment required to complete each task.
Progress: A visual representation of the completion rate for each task or milestone.
These components provide project managers with a comprehensive view of their project, helping them to plan and manage tasks more effectively, track progress, and communicate project status to stakeholders.
What is a Gantt chart used for?
The Gantt chart is a widely used tool in project management that helps in planning and organizing the sequence of tasks required for a project. It typically appears as a horizontal bar chart, with bars of different lengths representing the timeline of the project, including task sequences, duration, start and end dates, and the completion status of each task.
Gantt charts are valuable for scheduling, managing, and monitoring specific tasks and resources within a project. Project managers use them to communicate project status, completion rates, and potential issues to stakeholders. This tool aids in ensuring the project remains on track and within the timeline. It is a standard tool that enables unified communication among the engineering and project management communities. You can create Gantt charts using various software tools available today (like Jira).
Build and manage a comprehensive project.
A Gantt chart is a project management tool that helps break down a project into smaller, more manageable tasks. It provides a visual representation of a project's timeline and shows the dependencies between tasks, assignees, and milestones. By organizing a project into smaller tasks, a Gantt chart can make it easier to manage and monitor progress. The timeline feature allows for the scheduling of these smaller tasks and can also help identify potential delays or scheduling conflicts. Gantt charts are widely used in various industries, including construction, software development, and manufacturing, to ensure that projects are completed on time and within budget.
Determine logistics and task dependencies.
Gantt charts are a valuable tool for project managers to determine the logistics and task dependencies of a project. By using task dependencies, a Gantt chart can ensure that a new task cannot begin until a previous task is completed. This feature helps to avoid scheduling conflicts and delays. If a task is delayed, the dependent tasks can be automatically rescheduled, which is especially useful in a multi-team environment where delays can have a significant impact on the project timeline. Overall, a Gantt chart is an effective way to keep track of the interrelated tasks in a project and ensure that everything is progressing according to plan.
Monitor the progress of a project
A Gantt chart is a useful tool for project managers to monitor the progress of a project. As teams log time towards issues in the plan, the Gantt chart can be updated to reflect progress made. This allows project managers to track the health of their projects and make adjustments as necessary. Gantt charts can also include release dates, milestones, or other important metrics that help track the project's progress. By using a Gantt chart to monitor progress, project managers can ensure that the project is on track and make any necessary changes to keep it on schedule.
The benefits of using a Gantt chart
There are two main reasons Gantt charts are loved throughout the project management world. They make it easier to create complicated plans, especially those that involve multiple teams and changing deadlines. Gantt charts help teams plan to work around deadlines and properly allocate resources.
Project planners also use Gantt charts to maintain a bird's-eye view of projects. They depict, among other things, the relationship between the start and end dates of tasks, milestones, and dependent tasks. Modern Gantt chart programs such as Jira Software with Roadmaps and Advanced Roadmaps synthesize information and illustrate how choices impact deadlines.
Gantt charts in waterfall vs. agile planning
During the early 20th century, Henry Gantt invented a graphical representation called "Gantt charts" to track the progress of workers assigned to a specific task. This innovative technique enabled supervisors to easily identify if their production schedules were lagging, progressing ahead, or staying on track. The introduction of Gantt charts was a pivotal moment in project management, especially for large-scale construction projects such as the Hoover Dam and the interstate highway network. Initially, Gantt charts were drafted on paper, but with the emergence of computers in the 1980s, Gantt charts evolved into more sophisticated and complex forms.
Whether you like waterfall or agile methodologies, Gantt charts can be a powerful tool for either.
Waterfall and Gantt charts
The waterfall model is a linear approach to project planning that begins by collecting stakeholder and customer requirements. Project managers then create a sequential project plan with milestones and deadlines, where each piece of the project relies on the completion of preceding tasks. This approach is favored by teams that prioritize process over ideation or problem-solving, such as those in construction or manufacturing. When using the waterfall model, project managers typically prefer to use Gantt charts. Gantt charts help determine a project schedule by breaking projects into manageable chunks of work and assigning start and end dates. They are also useful in identifying important milestones in the project, which are optional but recommended as accomplishments that teams should achieve on or ahead of schedule.
Agile and Gantt charts
In contrast, the agile model of project planning emphasizes flexibility and adaptability. Rather than creating a complete timeline with fixed dates, agile teams divide projects into smaller iterations or sprints. At the beginning of each sprint, the team plans their work based on the project goals for the next two weeks. At the end of the sprint, the team's achievements and progress inform the plan for the next sprint.
Gantt charts are also useful for agile teams because they illustrate how changes to one task can impact the overall plan or product roadmap. Since stakeholder feedback is a crucial part of the agile methodology, Gantt charts can help teams quickly adjust and adapt to changes in the project.
How to use Gantt charts
Jira Software has two distinct road mapping features that cater to different needs. Jira Roadmaps is ideal for monitoring tasks allocated to a single team, while Advanced Roadmaps is best suited for project planning that spans multiple teams or organizations.
Project-specific charts: Jira Roadmaps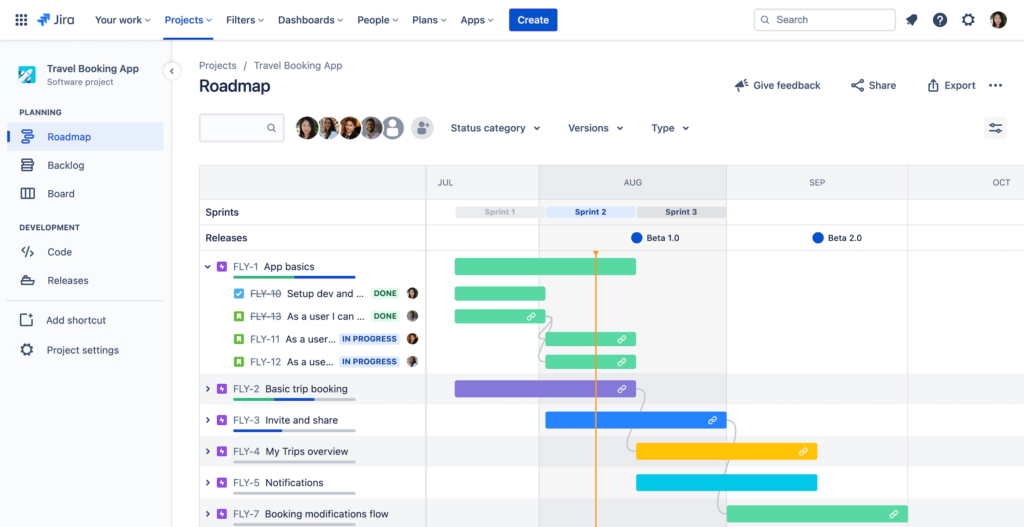 The Gantt chart in Jira software can provide a visual representation of how the team is progressing toward its goals. It also includes a collapsible work breakdown structure, which allows project managers to easily view the key stories of the project. Additionally, Jira offers a free project management template that includes Gantt charts, making it easier for teams to get started with project planning and tracking.
High-level organization chart: Advanced Roadmaps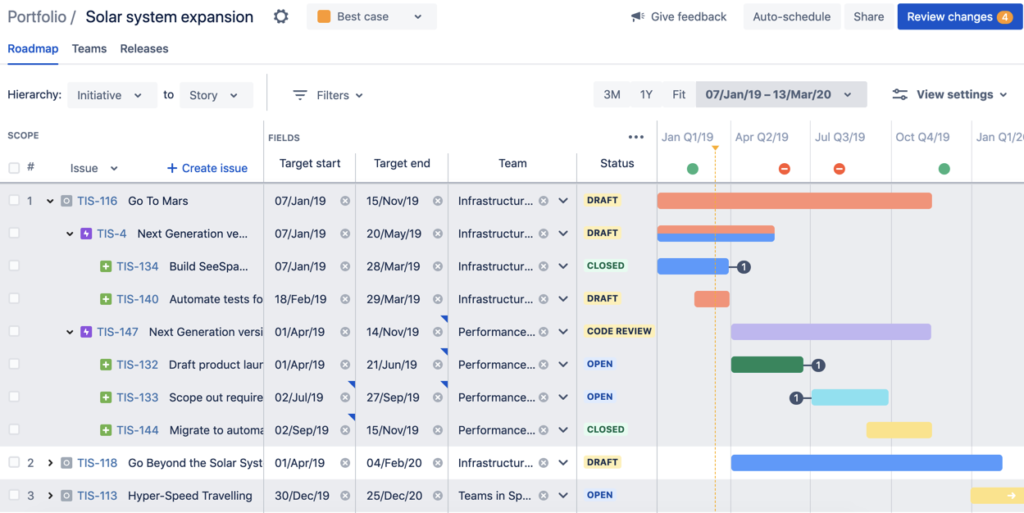 Jira's Advanced Roadmaps is a powerful tool that enables planning, managing, and tracking work across multiple teams or even your entire organization. It empowers teams at scale by providing an extensive overview of project and program status, enabling teams to make data-driven decisions quickly. With Advanced Roadmaps, teams can plan and track work across multiple projects, identify potential roadblocks, and reallocate resources as necessary to keep everything on track.
Project management software that includes cross-team workflows provides advanced tools such as capacity management and automatic scheduling features that make it easier to create more complex project plans. These tools also offer various view settings that allow users to customize their Gantt charts to emphasize specific aspects of their plan when presenting it to stakeholders or team members.
Conclusion
Gantt chart software such as Jira Software with Roadmaps and Advanced Roadmaps are widely used by project managers and industry leaders to help organizations achieve their goals. These tools are suitable for a range of applications, from planning complex projects to monitoring the progress of an entire company. They are highly scalable and can be used at various levels, including the portfolio, large solution, program, and team levels, per the SAFe® guidelines.
Certainly! If you're interested in trying out Jira Software with Roadmaps or Advanced Roadmaps, you can sign up for a free trial of Jira Software Cloud on the Atlassian website. The trial period allows you to explore the features and capabilities of Jira Software, including its Gantt chart tools, and determine if it's the right fit for your project management needs.
Credits:
Investopedia: https://www.investopedia.com/terms/g/gantt-chart.asp